We've put together a list of the 5 Best Lounger Hot Tubs of 2021. Lounging Hot Tubs are one of the most popular types of hot tub for first time hot tub buyers. Reclining in a hot tub with jets working your sore and tired muscles is the best way to end your day after being on your feet all day, a good work-out or just for those achy muscles and joints!
Why You Should Choose a Lounger Hot Tub
A hot tub with lounge seating is a reclined area in the hot tub that allows you to lie down with your feet up, shoulders back, and your head against the resting area.
Loungers are very popular with customers looking for lower leg therapy. The zero-gravity position and non-float designs on many loungers make it a perfect way to relax and receive a full body massage.
Galaxy Home Recreation has been in business since 1975 and has sold thousands of lounger hot tubs. Each customer has a different opinion on what's important in a hot tub. Here is a list of the '5 Best Lounger Hot Tubs of 2021′, we hope it helps you find the perfect spa for you!
| | |
| --- | --- |
| MSRP Price | $14,448 |
| Our Price | $9,799 |
| Seats | 6 |
| Jets | 35 |
| Brand | Jacuzzi |
| Features | Waterfall |
With a combination of a lounge seat and open seating, the Jacuzzi-235 is one of our best-selling models. It has the hydrotherapy benefits most hot tub shoppers are searching for at a great value!
Pros
CLEARRAY System
LED lights and waterfall
Most powerful Hot Tub in its price range
Cons
Doesn't have the flagship filtration, but still keeps the water very clean
Doesn't have Jacuzzi's patented jets.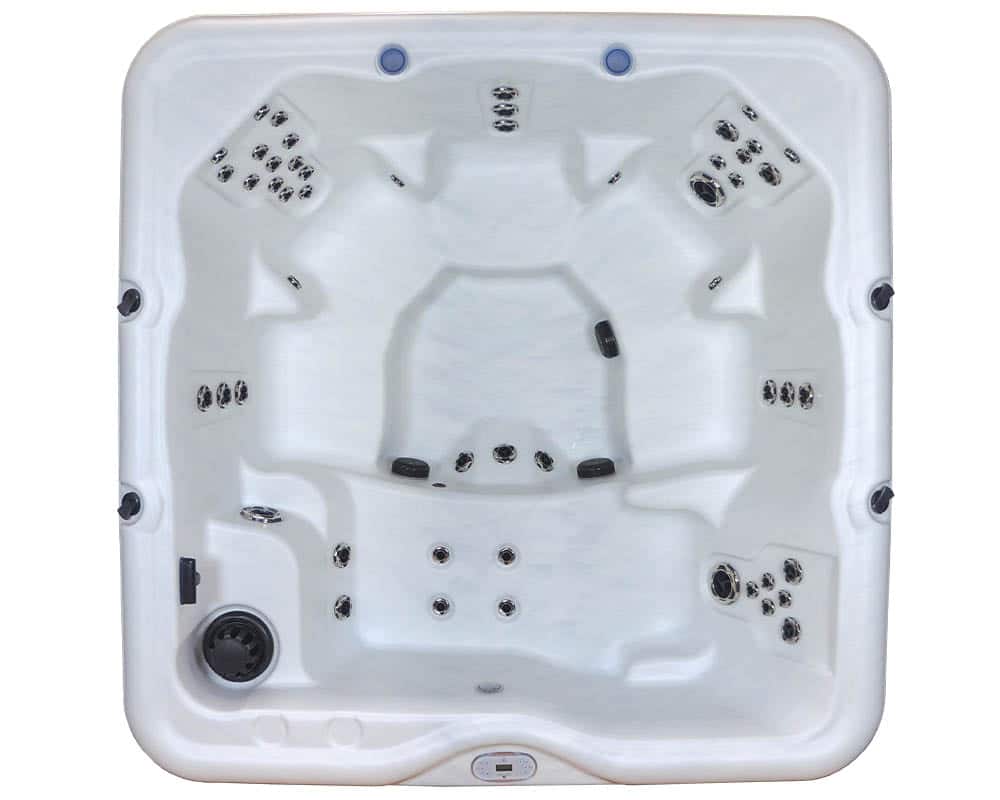 | | |
| --- | --- |
| MSRP Price | $11,048 |
| Our Price | $7,999 |
| Seats | 6 |
| Jets | 53 |
| Brand | Nordic |
| Features | Dual Therapy System |
Buying a nice lounger hot tub, doesn't mean you have to break the bank. The Nordic Encore has the luxurious experience you are craving without the high price tag.
Pros
It has 6 seats and a "no-float" lounger, it's so relaxing, you might not want to leave!
Nordic carries a best-in-class warranty for its price range and optional Northern Lights Program to provide nighttime elegance both inside and outside of the hot tub.
You can also equip it with the AquaOzone System which provides both UV and Ozone to keep the hot tub beautifully clean.
Cons
Doesn't have Ergonomic seating.
The Hot Tub shell doesn't have the same look as acrylic.
| | |
| --- | --- |
| MSRP Price | $33,998 |
| Our Price | $24,999 |
| Seats | 7-9 |
| Jets | 62 |
| Brand | Jacuzzi |
| Features | ClearRay UV Water Purification |
Do you love throwing parties? If you answered "yes", you need a Party Lounger Hot Tub!
Pros
With 9 seats, LED lighting and Bluetooth music compatibility, the Jacuzzi 495 has everything you need for some F-U-N
This is the most spacious hot tub available in the market.
You can control your hot tub from anywhere in the world with Jacuzzi's optional SmartTub system. Set the temperature, select the desired lighting program and have your hot tub run a clean cycle to be perfectly ready!
Cons
Not everybody has room for this size hot tub.
Higher end range hot tub price.
| | |
| --- | --- |
| MSRP Price | $21,248 |
| Our Price | $14,999 |
| Seats | 6 |
| Jets | 44 |
| Brand | Jacuzzi |
| Features | Features PowerPro® Jets |
The right therapeutic lounger hot tub will assist with muscle recovery, reduce stiffness and stress and even contribute to a better night's sleep. A lot of lounger hot tubs claim to do all of these items, but the Jacuzzi-355 stands out from the crowd.
Pros
The Jacuzzi-355 has a full lounger and a semi-lounger that delivers head-to-toe therapy.
The J-355 also features a dual step-in, cool down seat allowing those whom need easier access into the hot tub and those whom want to receive some cool air and soak their legs.
Jacuzzi's CLEARRAY Sanitization system and 4 stage filtration system purifies the water down to 5 microns.
Cons
The dual step in / cool down seat cuts down on the overall # of seats.
The lounger is not meant for those above 6'3
| | |
| --- | --- |
| MSRP Price | $16,488 |
| Our Price | $12,499 |
| Seats | 6 |
| Jets | 39 |
| Brand | CalSpas |
| Features | Hydro-Massage Therapy |
The Cal Spa Pacifica is Galaxy's choice for All-Around Best Lounger Hot Tub! This luxurious 5–7-person lounger hot tub includes a full-size lounger with stainless steel jets at your feet, back and neck.
Pros
It includes various jet placements on each seat. On top of that, it comes with a cascading waterfall and LED spa lights.
Many customers also choose the Freedom Bluetooth Stereo System, making it the perfect hot tub for a relaxing evening alone or entertaining with friends.
The Pacifica features a taller depth making it a great option for taller customers and those wanting a more immersive water experience. The Pacifica also has recessed foot jets so you can easily move around the hot tub.
Cons
Therapy performance consistent with industry standards, but not as powerful as Jacuzzi or Sundance.
The taller height may shortchange shorter folks in the family. They do have some seats that sit higher.
In Conclusion
There you have it! Here is a list of Galaxy' Home Recreation's 5 Best Hot Tub Loungers of 2021. If you have any questions about a particular Hot Tub model, please let us know! We are here to help you find the perfect Hot Tub for you.
Shop all of our Hot Tubs online HERE or visit a showroom near you!